Hudson Lofts Gold Coast 2022 Racing results
17/6/22 Results coming shortly
31/7/21 Ausn 20 2339 bb hen 15th fed 8th section vel 1458 mpm for Jubb Loft QRPF QLD against 2363 birds

.
24/7/21 Ausn 20 2323 11th fed 325 km for Jubb loft QRPF QLD vel 1348 mpm against 2238 birds. 24/7/21 Ausn 20 2089 12th fed for Ken Jorgensen QRPF QLD vel 1347 mpm against 2238 birds 24/7/21 Ausn 19 9549 3rd sec 8th fed NRC QLD for Zander/Shin vel 1364 mpm against 741 birds.
10/7/21 Ausn 20 2093 and 2131 were 2nd and 3rd birds to loft from 238 km for Ken Jorgensen QRPF who finished 3rd fed against 2393 birds.
3/5/21 All of Ian Ketchel QRPF QLD results from 3/5/21 167 km through to 609 km 27/6/21 all Bred by Hudson Lofts & raced by Ian with many other Hudson Lofts birds also landing with the clockbird on different occasions along with some of Ians.
5/6/21 Ausn 19 9319 6th sec 9th combine 214 km NRC QLD bred by Hudson Lofts raced by S Zander.
29/8/20 Ausn 19 9864 BB Cock 1st club 5th fed 339 km MNCPF NSW bred by Hudson lofts raced by B Huxley.
12/6/21 Ausn 19 9758 1st club 3th sec 5th Combine 214 km NRC QLD also landing with Ausn 19 9319 bred by Hudson Lofts raced by S Zander.
19/6/21 Ausn 19 9758 2nd sec 3rd Combine 281 km NRC QLD bred by Hudson lofts raced by S Zander.
26/6/21 CCF 20 166 clocked for 2nd club 9th sec 82nd Fed 169 km bred by Hudson Lofts and raced by Sam Sultana & son Luke Central Cumberland Fed Sydney 3742 birds.
4/7/21 CCF 20 180 clocked in for 8th sec 25th fed 256 km for Craig Mc Donald QRPF QLD 1796 birds.
MORE 2021 RESULTS COMING VERY SOON
Most of 2020 Racing Results cancelled due to covid 19
Hudson Lofts Gold Coast 2019 Top Fed Race Results
28/9/19 Ausn 17 5753 bb hen 7th Fed Charleville 5 bird National 685 klm velocity 1262 mpm bred by Hudson Lofts and raced by K Jorgensen QRPF.
24/8/19 CHRP 18 8291 dch 1st Fed Young bird Derby Cleveland 316 km MNCPF velocity 1394 mpm Raced by Alex Kinning and bred from 2 Hudson Lofts birds sold to Alex.
3/9/19 GC 50,000 Race 1 Harwood Island 175 klm 2nd place The Coop Crippa supplied in a race team and 7th place Kids with Cancer Neville Pearce Charity bird both birds bred by Hudson Lofts we had 6 birds in the top 50.
11/8/19 AUSN 18 7343 5th fed Miriamvale 422 klm vel 1321 mpm only 36 seconds behind the fed winner for Zander/Quah MDIPF QLD.
11/8/19 LCPC 18 463 2nd fed Miriamvale 408 klm & LCPC 18 464 3rd fed 408 klm vel 1322 mpm landing together these 2 are nestmates bred from 14069 Hereman/Ceusters hen Sold to Dave Horne/Hill Billy lofts/Brandon Smith. MDIPF QLD.
4/8/19 LCPC 17 360 + AUSN 17 5914 landed together 1st Federation 1st club Bundaberg 324 klm velocity 1244 mpm for Dave Horne flying under Hill Billy Lofts MDIPF QLD with 360 and 5914 both being bred from Hudson Lofts young stock birds.
4/8/19 AUSN 18 7269 landed with 3rd Fed Bundaberg 324 klm velocity 1243 mpm for Zander/Quah MDIPF QLD.
28/7/19 AUSN 18 7344 15th Fed Bundaberg 338 klm velocity 1165 mpm fly time 4 hours 50 minutes MDIPF.
21/7/19 AUSN 17 5819 5th club 8th fed Bundaberg 338 klm velocity 1236 mpm for Zander/Shin MDIPF.
21/7/19 AUSN 18 7815 landed with 1st club 3rd Fed Bundaberg 338 klm velocity 1245 mpm for Zander/Quah MDIPF
13/7/19 LCPC 18 414 clocked for 1st club 9th fed Childers 288 klm velocity 1308 mpm for Dave Horn Morten Pigeon Fed QLD bred from Hudson Lofts birds.
13/7/19 AUSN 18 7475 clocked for 1st club 21st fed Casino 343 klm velocity 1230 mpm for Steve Atchison Mid North Coast Pigeon Fed purchased in a race team.
13/7/19 AUSN 18 7269 and 7206 clocked in with 11 Hudson Lofts birds on the drop from Childers 302 klm velocity 1294 mpm for S Zander Morten Pigeon Federation QLD.
8/7/19 AUSN 18 7396 clocked for 37th fed Dalby velocity 1056 mpm raced by K Jorgensen Cannon Hill club QRPF.
29/6/19 AUSN 17 5753 3rd fed 1st club Roma 435 klm velocity 1060 mpm 770 birds fly time of 6 hours & 56 mins raced by Ken Jorgensen Cannon Hill Club QRPF.
22/6/19 24th fed 6th club Dalby 188 klm AUSN 18 7396 Velocity 1090 mpm 1831 birds raced by K Jorgensen QRPF.
7/6/19 AUSN 18 7394 landed with 7th fed Jondaryan 155 klm 1183 birds for Craig McDonald QRPF Queensland.
8/6/19 1st Fed Jondaryan 154 klm QPF 5415 velocity 1124 mpm 1183 birds bred from 2 Hudson Lofts young stock sold to K Jorgensen and we had 4 other birds land with the winner 5415.
8/6/19 3rd fed Jondaryan 154 klm QPF 18 4779 1183 birds raced by W Garner and bred from a Hudson lofts Gaby Vandenabeele.
18/5/19 5th fed Dalby 180 klm AUSN 17 5733 velocity 997 mpm 1420 birds raced by K Jorgensen Cannon Hill Club Queensland Racing Pigeon Federation.
Ausn 20 2091 bb hen this fantastic little girl has been clocked multiple times for Ian Ketchel QRPF 2021 and was the only bird he sent to 600 km and she came back covered in blood with an injury.She is a very nice Hudson Lofts specimen.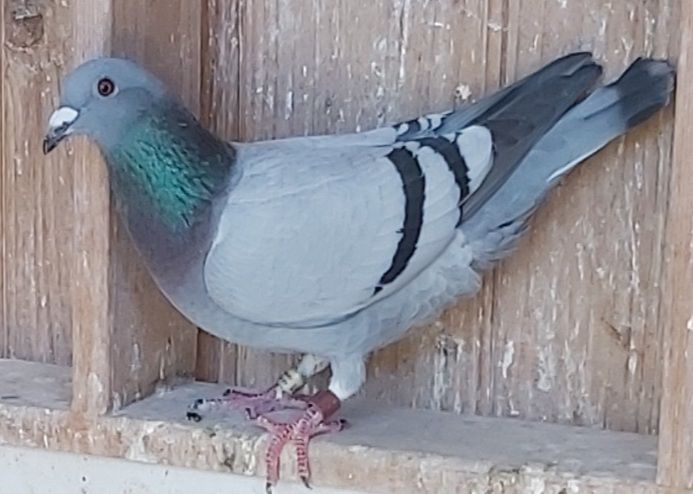 Ausn 20 2074 Dark check Geerinckx cock clocked & equal clock bird 4 times.He has just arrived home from a race standing with 2 other loft mates bred by Hudson Lofts also raced by I ketchel.2074 is slightly over medium size with a big motor as he tried very hard each week he raced and this is a good quality you need in your pigeons.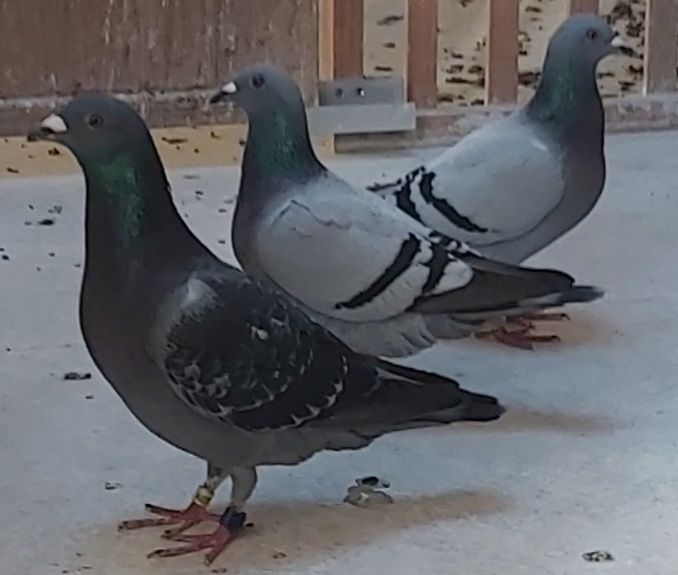 Gold Coast 50,000

One Loft Race 2015:
Winning over $25,000 in prize money with our birds – some results are:
Race 1 - 5th place for Andrew James
Race 2 - 7th place – landed with the winner and just missed out on $10,000
Race 3 – 3rd place winning $3,750 and 6th place winning $1,000
Race 4 –Feature race 3rd place winning over $15,000 & 21st place
Race 5 – 9th place also landing with the winner, just missing out on $9,000
2015 GC 50000
RACE 1. 152km 1st KEVIN CLARK 2nd DALE & TRUDY KETCHELL 3rd DAVE WETERING 5th ANDREW JAMES 'SCENIC' BRED BY HUDSON LOFTS 16TH 'P.V. DEB' BRED BY HUDSON LOFTS
RACE 2. 225km 1st SPRINGVALE SOUTH CRICKET CLUB 2nd V.I.P. LOFTS 3rd NEVER TOO LATE 7th 'P.V. DEB' BRED BY HUDSON LOFTS
RACE 3. 275km 1st HAMILTON RACING 2nd BRAD SCOTT 3rd DAVID CHAFFER 'JASON' BRED BY HUDSON LOFTS
FEATURE RACE 4. 512km 1st I & K BRENNER 2nd PHOENIX LOFTS 3rd T.L SYNDICATE 'LILY' BRED BY HUDSON LOFTS
EXTRA RACE 5. 650km 1st BASIL GEORGE 2nd PHILLIPS & MILTON 3rd OBY & BRENNER 9th 'JAMES' BRED BY HUDSON LOFTS
ACE PIGEONS 1st V.I.P. LOFTS 2nd HAMILTON RACING 3rd 'P.V. DEB' BRED BY HUDSON LOFTS
PLUS Multiple clock birds or equal clock birds for Shane Smith NRC (Qld) in 2015, with some top Fed placings including 3rd Fed Mackay 780 klm 2015.
2016 GC 50,000 RACE 4 FEATURE RACE 600 KM
Hudson lofts had 4 birds land with the winner all missing out by a few seconds on $45,000 prize money but did still win some good cash fantastic effort for this years birds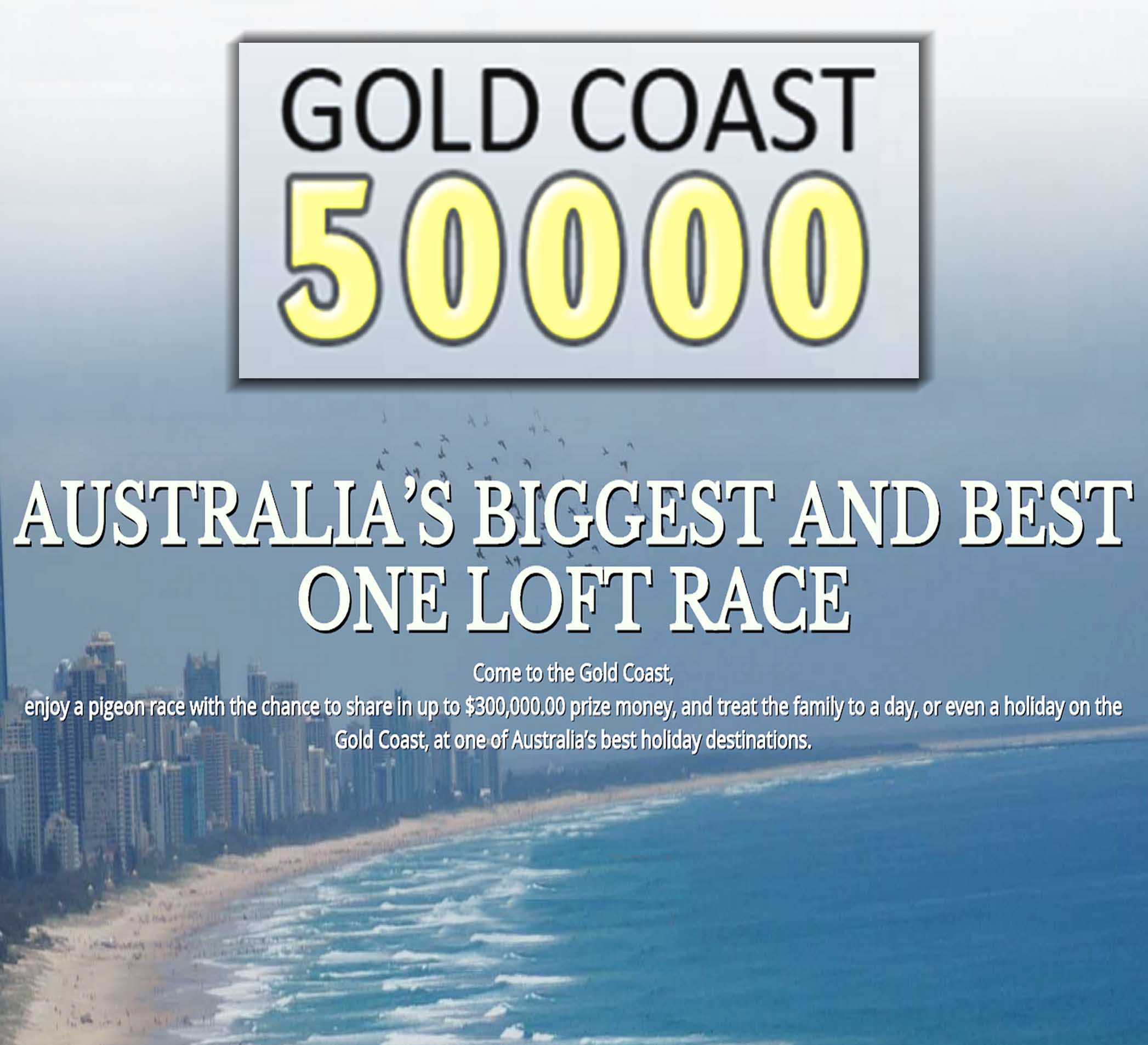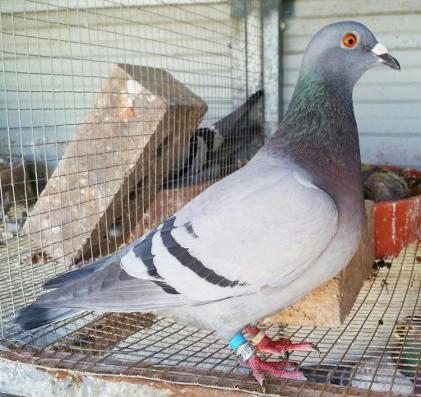 Second Chance - landed with the winner GC 50000 2016 Feature Race 600km. Winner won $45,000.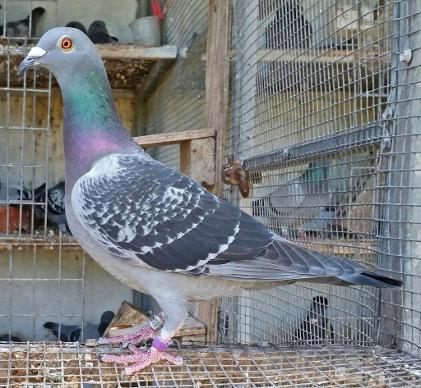 Ballarat Berdie - 8th place - landed with the winner GC50000 2016 Feature Race 600km. Winner won $45,000.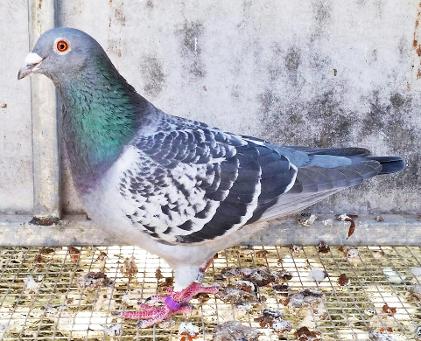 Donner - 5th place - landed with the winner GC50000 2016 Feature Race 600km. Winner won $45,000.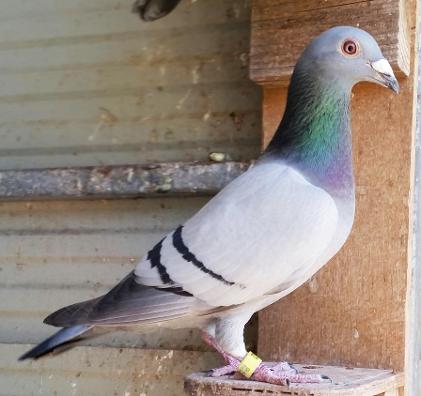 Alton - landed with the winner GC 50000 2016 Feature Race 600km. Winner won $45,000.
Some other race results these pigeons have achieved:
4th Fed National Newcastle 580 km flying against Yamba Grafton Casino Lismore & Murwillumbah
1st Breeders Plate Sydney 666 km G McCauley
1st Fed National FNCC
1st Club 12th Fed National 580 km flying against these clubs above
1st Club 10th Fed Ybd Newcastle 580 km flying against these clubs above
1st Club National St Lawrence 722 km
1st Fed National St Lawrence flying against Sunshine Coast NRC, Gateway, Logan, Pheonix clubs.
3rd Fed 1st South Section National St Lawrence 722km 2013 - I am 144 km behind the winner.
10th Gold Coast 50000 2014, 659km on a dirty cloudy rainy windy day with not many birds home that day.
And many other top Fed positions for Bill Huxley Kempsey NSW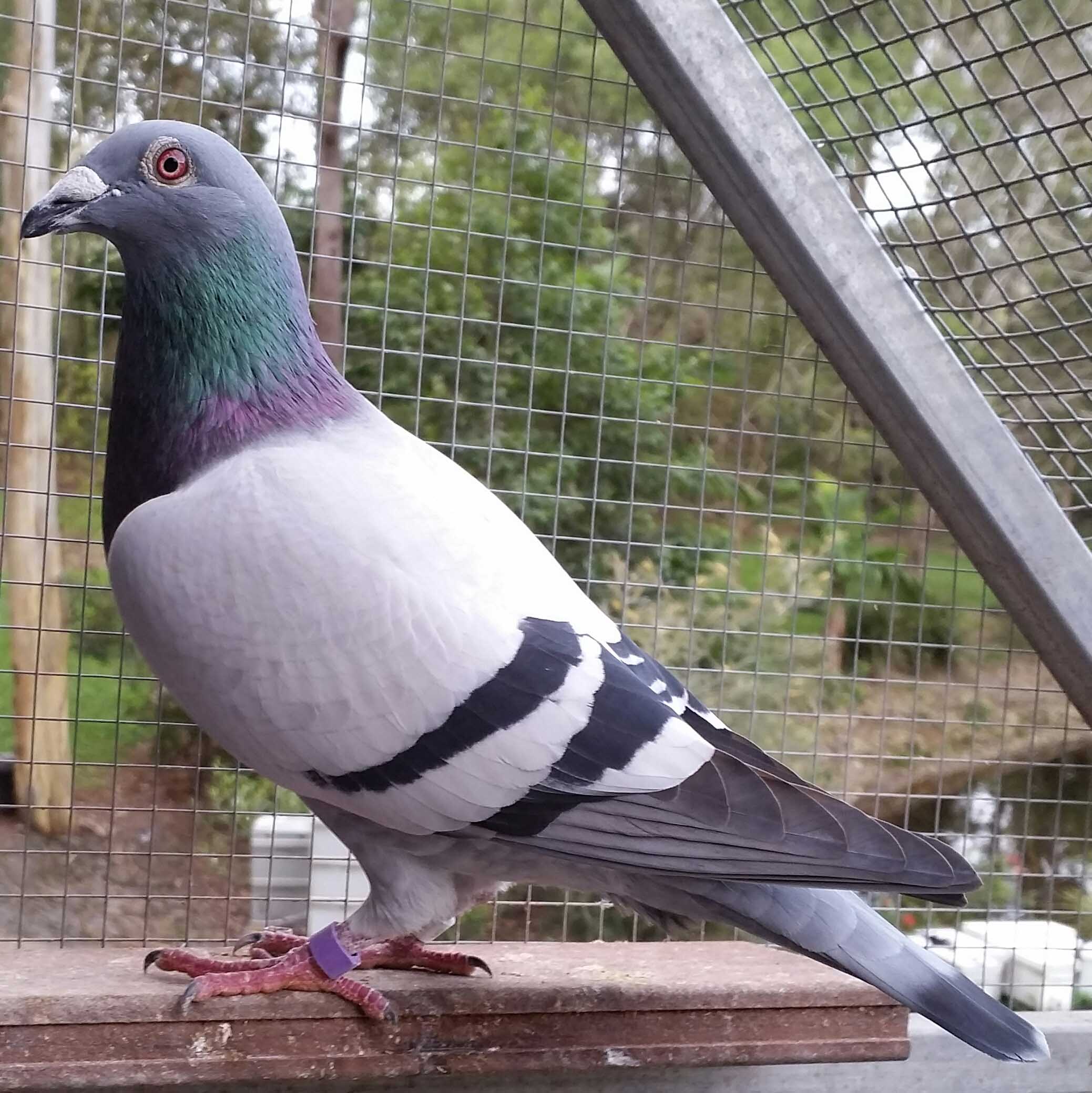 Shim
33rd place GC 50,000 oneloft final feature race 2019 580 klm and 14th best Ace pigeon Blue Bar pied cock and full brother to Checkmate who was 6th Best Ace Bird.This cock is now in stock and he is a wonderful compact medium sized pigeon and im looking forward to breeding off this quality racing pigeon.
Ganymede
39th place GC 50,000 oneloft Final feature race 580 klm 2019 and 18th best Ace Pigeon and this cracking hen is a full sister to champion Grey Shadow.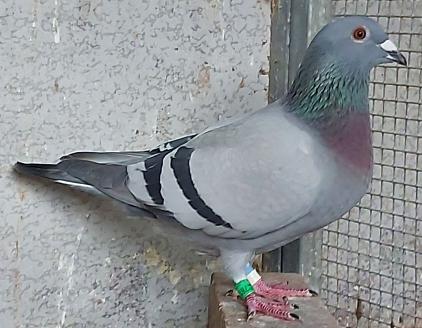 AUSN 18-7263 BB cock 1st club 8th fed 500klm velocity 1194mpm fly time of 6 hours 58 mins this cock put in the best performance in the fed on the day due to his loft position in my opinion.Raced by S Zander bred by Hudson Lofts Gold Coast.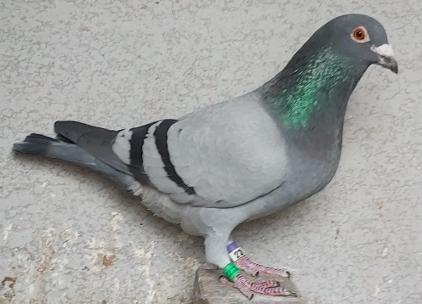 Aus National 18-7815 Blue Bar cock raced by S Zander bred by Hudson lofts 2019 season and now in stock.Clocked & equal clockbird 4 times for 1st club 3rd fed 338 klm 1245 mpm,5th club 8th fed 338 klm 1236 mpm,Clocked for 1st club 178 klm 1157 mpm,Landed with the winner Tairo 241 klm 1176 mpm.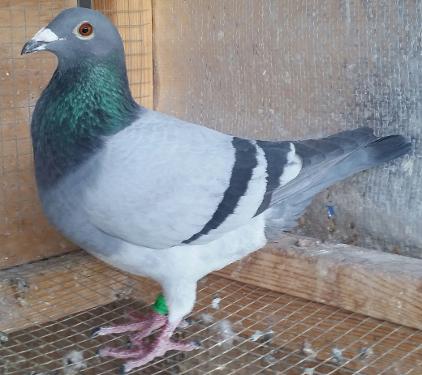 SK 1
23rd place GC 50,000 final feature race 530klm 2019 and as every body knows the last race of the year was bloody tough with extremely strong headwinds.Hudson Lofts Dirk Van Den Bulck bloodlines.Ist cousin to GC 50,000 Todd Pasfeild Mims also Van Den Bulck who was sitting 2nd Ace bird after race 3 then lost in the hard final feature race 2019.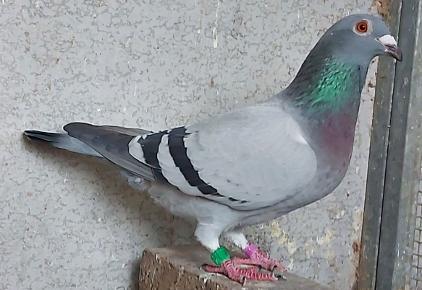 AUSN 18 7420 landed with 5th club 18th fed 363klm vel 1169mpm and clocked for 4th club 18th fed 527klm vel 1211mpm fly time of 7 hours 15 minutes against 900 birds QRPF Queensland.100% Graham Davison bloodlines.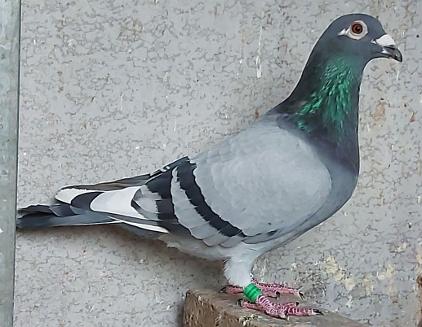 Hereman/Ceusters x Gaby Vandenabeele
QPF 17 5415 BB hen 1st Fed Jondaryan 154 klm @ 1124 mpm against 1183 birds QRPF, landing with 4 other Hudson Lofts birds and also was 4th fed Maryborough 2018 Raced by Ken Jorgensen QRPF .5415 is 100% Hudson Lofts blood Grand Daughter of Master Figo H+C & Blue Blood Gaby VB.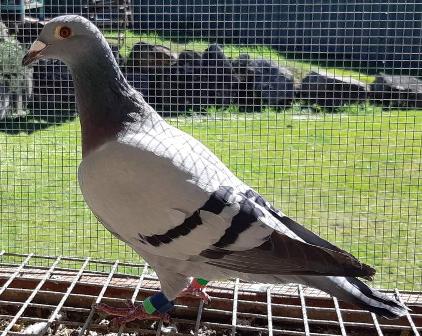 Thunder
SSC 17-382 Blue bar flighty hen 1st Combine Goulburn 843 klm Velocity 787 mpm flying time of 16 hours and 49 minutes and winning the race by 17 hours landing with her full sister and only 3 birds home in race time in extremely bad weather.They have also been put together very nicely with perfect apple bodies.K Sherring Champion Staff Van Reet Bloodlines.She also won 1st club 6th combine Nabiac 463km and 1st club 1st combine Forresters Beach 636km.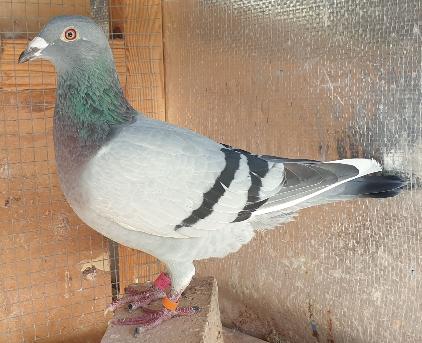 Lightning
Lightning landed with her sister Thunder above and they most probably traveled together for the entire 843 klm trip and you could only imagine what they seen and experienced together flying all that way.K Sherring champion Staff Van Reet bloodlines.Also landed with her sister 382 for 1st club 6th Combine Nabiac 463km.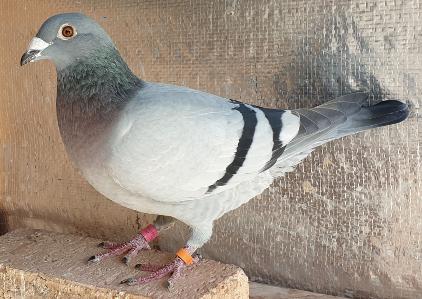 AUSN 17 5952 BB hen clocked for 14th fed 379 klm QRPF against 2215 birds landed with clock bird on 2 other occasions.Line bred to the MV lofts $14,000 cock.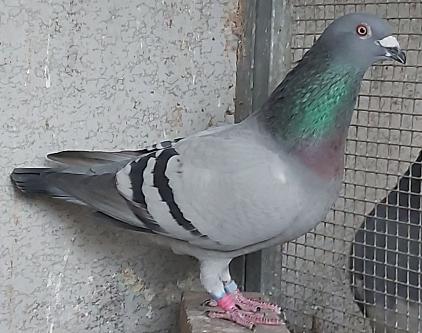 Pencil Blue Bar cock is 100% Vandenabeele raced by S Zander landed with clock birds on 3 occasions and is bred from 5201 Little Boy lines and Dam is the Pedavoli hen i have 3 the same way bred in stock that have produced also.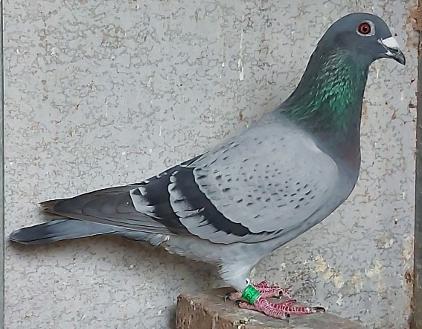 AUSN 18 7207 Check hen landed with 14th fed 500 klm nest mate 7206 2nd club 302 klm 3rd fed 324 klm.Daughter of Second Chance landed with the winner GC 50,000 final.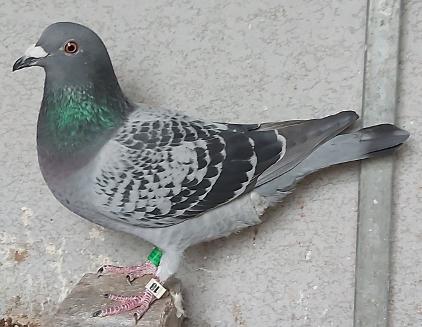 Blue Check hen is a Daughter of Little Rambo the top Vandyck stock cock and she was a fantastic little race bird for S Zander now in stock.Little Rambo is the Grand Sire of the SAHPA bird of the year runner up 2019.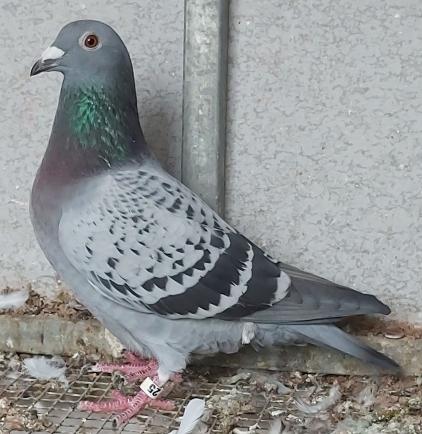 6298 3rd Fed 1st Section 5 Bird National St Lawrence 722 klm the winner was 144 klm shorter than me.
SIRE was 1396 BCH Cock also a National Winner from Newcastle 580 klm Inbred Black Family.
DAM was Gaby Vandenabeele Lady Little Boy BB Hen Top Producer.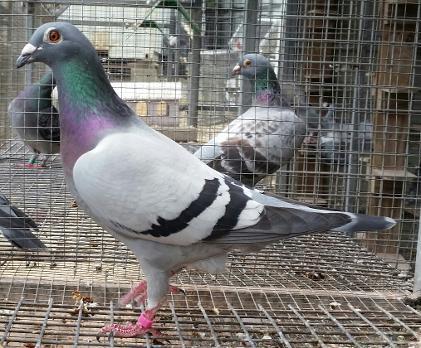 PV DEB 3RD Best Bird Ace Pigeons GC 50,000 2015 from 1140 Entries.
SIRE 187 DCH Cock Inbred Son of 841 Black cock No1 Stock Cock.
DAM 028 Gaby Vandenabeele CH FLTY Hen Outstanding Producer.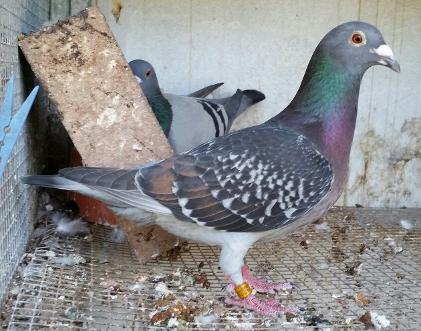 1st Fed/Combine 5 Bird National St Lawrence 780 km North Road Combine QLD.
Being one of the longest markers in the Fed and winning by 4 1/2 minutes she is Pryor/Goodger x Appleby/Maclean Blacks blood.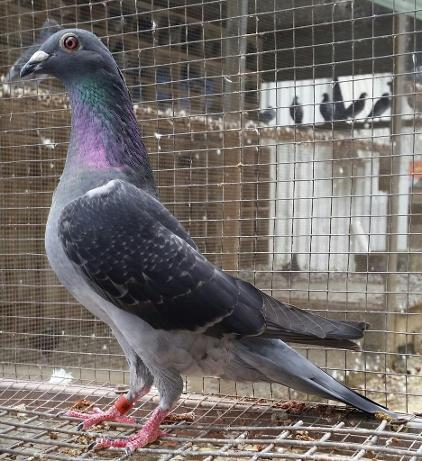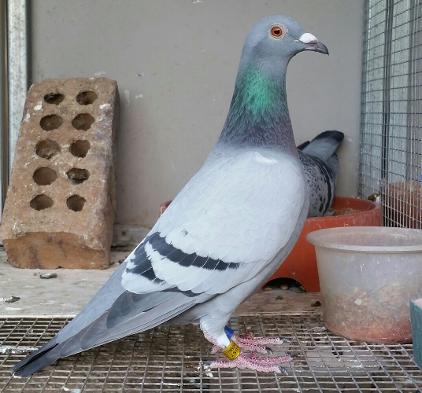 Caprioska

double Grand daughter of 13407 MV lofts $14,000 Hereman/Ceusters Cock who Bred 16 winners in 2 seasons in QLD.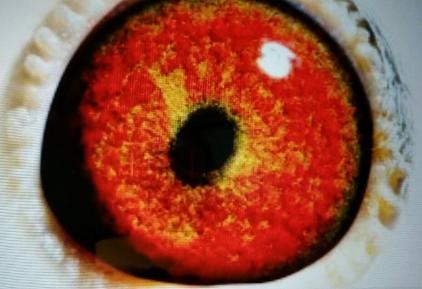 2017 1st Round Youngsters Gaby Vandenabeele
SIRE 5201 Pencil BB Cock Inbred to Little Boy one of my Best.
DAM KPS 15 936 BB New Pedavoli Hen.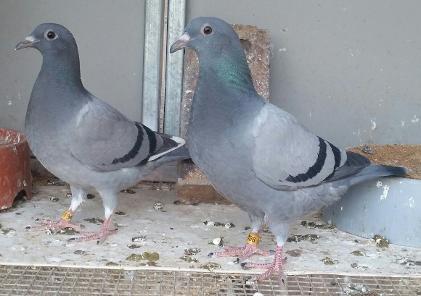 2017 Race Results
24/6/17 Noosa 158 km Steve Zander is racing under Zander/Shin and Zander/Qua 5th south side combine with 3 of our birds landing with his clock bird AUST 16 = 2424--2425--2436 all are Hudson Lofts sprint lines.
24/6/17 Yarraman S+T Smith 1st Combine North Road Combine with 2 of our birds landing together 5396 and 3808 both very good Hens performed well.
1/7/17 Noosa 158 km S.Zander 1st and 2nd place Brisbane South Side Combine clock bird is Aust 15- 3971 bcc Velocity 1115 mpm and landing with him was 2481 and 2447 they are all Hudson Lofts Sprint families fantastic effort Steve.
1/7/17 Noosa Ken Jorgensen Brisbane South Side Combine We had 8 birds land with Kens clock bird ken says his birds are starting to look a lot betta after Rota.
8/7/17 Tairo 242 km S .Zander 1st and 2nd places Brisbane SSC clock bird was AUST 16 -2436 and landing with him was 2433 velocity 1180 mpm both from our sprint families again good stuff
8/7/17 Jimbour 180 km S+T Smith 6th place North Road Combine with clock bird AUST 15 3808 she has already been clocked this year.
15/7/17 Tairo 242 km S .Zander 8th place Brisbane SSC clock bird was AUST 15 3971 bcc velocity 1636 mpm.
15/7/17 Chinchilla 239 klm S+T Smith 2nd place North Road Combine clock bird is AUST 15 3808 this hen is doing everything right at the moment fantastic sprint pigeon.
15/7/17 clock bird for 15th fed Todd Passfeilds Coffs Harbour MNCP Federation this is Todds first year racing pigeons very new to the sport. AU 16 14002 was purchased in a race team by Todd.good luck mate enjoy your racing.
22/7/17 Bundaberg 334 km S. Zander Aust 16 2436 bbh won $10 pools and was 25 seconds behind his clock bird good enough for 3rd Combine velocity 1174 mpm she has probably been Steves best bird this year so far .And her nest mate 2437 was doing 1163 mpm not far off.
22/7/17 Bundaberg 307 km K.Jorgensen Aust 16 13995 landed with kens clock bird for 8th Combine velocity 1165 mpm pure Hudson lofts sprint lines.
29/7/17 Bundaberg 307 km K Jorgensen Aust 16 13995 clocked for 1st club 3rd Combine Brisbane SSC Kens first 5 birds were all Hudson lofts birds fantastic result for our pigeons well done Ken.
1st club 2nd combine for Dave Horn ssc 16- 49
12/8/17 Miriamvale 408 km Dave + Jess horn SSC 16 - 49 clocked on the same second as 5808 for 1st club 3rd combine velocity 1322 this pigeon bred from 2 birds purchased from Hudson lofts well done Dave.
2016 Race Results
7/5/16 1st club 17th fed Logan city Pigeon Club QPF QLD for Steve Zander winning by 6 minutes being the longest marker in the QPF velocity 997.45 bbar cock Aust 15-3953-is a son of Flashpoint our top sprinter cock.
14/5/16 3rd club 19th fed Dalby 208 km QPF Queensland for Steve Zander, Aust 15-3971 BCC he is a son of one of our best Heremans/Ceusters hens 5175 her and her siblings produce clockbirds every year.
14/5/16 3rd club 6th fed Tairo North Road Combine QLD for S&T Smith, PIC 15-575 BCH she is a 1st cousin to Steve zanders clockbird 3971 above.There dams are full sisters Heremans/ceusters owned by Hudson lofts.
21/5/16 2nd club 16th fed Dalby QPF QLD for Steve Zander clock bird AUST 15 3993 and AUST 15 14012 landed together velocity 894.449 both sires of these two birds are Hudson lofts Gabys crossed with our Blacks and H+C.The first 5 birds in the clock for Steve all Hudson lofts birds good effort.
21/5/16 4th club Tairo 1 minute and 12 seconds behind the winner for Mick McCarthy LCPC- NRC-QLD bird is LCPC 14- 2013 bbar hen the parents are 100% original Australian Legend Graham Davison SCF blood now owned by Hudson lofts we recently purchased 8 pairs that came direct from the master DAVO,all of his champion blood in our new birds.
28/5/16 clock bird for C & B Mathews from Childers NRC club North Road Combine Queensland AUST 15-14075 blue bar hen she was his second bird last week also. Her sire G son of black magic dam is a Gaby VB.This is Chris"s first year racing in Queensland good luck mate enjoy.
6/6/16 2nd club 10th fed for Steve Zander QPF raced from ChinChilla 284km velocity 1623.358 Aust 15-3993 ch pied hen she landed with 2 other Hudson lofts birds 14012 and 3872 this is the 2nd time clocked this year for this hen Steve is very happy with our birds at the moment good girl.
11/6/16 clock bird for C & B Mathews NRC QLD 16th fed Monduran 274km AUST 15 - 14081 BBC this cock has been close to his best bird for the year thus far,Chris says he has real character and is very impressed with him,he has done everything right so far,he is a son of Flash point our top sprint cock.
17/6/16 clock bird for S & T Smith NRC QLD PIC 15 -575 BCH from Tairo 4th club 13 fed.This is the second time clocked for this hen she is a lovely little girl and doing a fair job.she is bred from one of our best stock hens.
25/6/16 Dalby QPF QLD for S&T Smith Aust 15 3967 bch cock landed with Shanes clock bird the sire of this bird is Appleby/McClean Blacks x dam is Gaby VB.
2/7/16 clock bird for S&T Smith PIC 15-575 BCH hen from Childers 222km velocity 1204 mpm 9th fed -5th club but was on the pad doing 1228 mpm and did not scan good enough for 5th fed she has been his best bird for the year so far little rippa.
2016-GC 50,000 - 8/7/16 -2nd prize money toss 60km.Congratulations to Richard Zammit 1st place out of 900 plus pigeons winning some $$$ pocket money with one of our birds called Ambivalent we had 4 in top 100 today.1st place 41st-43rd-and 44th.well done Richard.
9/7/16 - clock birds for S & T Smith NRC club North Road Combine QLD from Childers 222km AUST 15- 5396 Bch hen and Miss consistant PIC 15 -575 Bch hen landed together with 5396 scanning first for a 3rd club 7th fed effort.The sire of 5396 is our new Graham Davison cock bird Whiplash I think this cock will be a sensation in the stock loft.
18/7/16 clock bird Ladies race for S & T Smith NRC QLD 268 km AUST 15 - 3912 bch she is a Gaby VB.
20/7/16 - GC 50,000 - 100 km toss Byron Bay we had 5 in the top 100 birds 19th what luck, 34th gana 89, 49th positive, 51st little moonah, 74th bonnie.
24/7/16 GC 50,000 Race no.1 - Yamba results.Hudson Lofts had 4 birds in the front pack that landed with the winner which are- What Luck -Gana 89-Goering-and Camira,with What Luck now sitting 11th in ACE Pigeons.
23/7/16 clock bird for Steve Zander 3rd club 11th fed Chinchilla QPF QLD- Aust 15 14012 Smokey bbc he has been equal clock bird 2 times previous being a Grandson of Black Magic remembering Steve is the longest marker in the entire QPF fed great effort steve.
23/7/16 clock bird for S & T Smith QPF QLD 2nd North section QPF Chinchilla 239km Aust 15-3866 dch this pigeon is out of our Black Magic family,once again these black pigeons are hitting the mark Great stuff.
30/7/16 clock birds for S & T Smith NRC QLD 4th club 7th fed Miriamvale 347km Aust 15 3912 bch and PIC 15-575 dropped together this hen 3912 was selected by shane as a youngster as a possible star,she has been in the top 5% of his race teams performances all year and he believes she is just warming up.
6/8/16 clock bird for S & T Smith NRC QLD 6th club 11th fed Miriamvale 347 km velocity 1081 the bird is AUST 15 3829 bch she is a daughter 895 Top Houben cock who is a grandson of the Dunnydoo fed winner CCF fed in Sydney.
13/8/16 clock bird for Steve Zander QPF QLD 4th club 6th fed 384 km QPF 15 - 8052 bch she is bred from an inbred grandson of the $7000 Zander Gaby hen the sire was gifted to Steve as a youngster last season and has produced this year already.
13/8/16 clock bird for S & T Smith NRC QLD 6th club 14th fed 396 km PIC 15- 595 bch she was good enough to run 6th fed but is now trap shy and spooks very easily so she wont be raced any more she has been shanes best bird all year clocked multiple times her sire is the MV Lofts BB Houben cock he is a big favorite of mine has bred some handy youngsters.
21/8/16 GC 50,000 Race 3- 325 km Gana 89 placed 14th in the prize money and is now top 10 ace pigeons.
2016 GC 50000 RACE 4 FEATURE RACE 600 KM Hudson lofts had 4 birds land with the winner the winner won $45,000 fantastic result for 2016- the 2 best results were 5th place and 8th place in the final winning a total of $8,944.and the sire of Swag lord 32nd place was purchased from Hudson lofts.
17/9/16 clock bird for S&T Smith QPF QLD 593 km 1st club 5 section AUST 15-3950 slate hen.
17/9/16 clock bird for S&T Smith North road combine QLD 7th club 12th fed 489 km AUST 15 BCH hen 3912.
clock bird for S&T Smith NRC QLD Aust 15 5392 from Bowen 932 km 3rd club 5th Fed/Combine this bird is out of our new 100 % Original Graham Davison pigeons.and Aust 15-5444 was just 12 minutes behind 5392 and also good enough for 3rd club 5th Fed 932 km and was also out of the Davo Birds.
2016 Season summary
Hudson Lofts has had another very successful racing season in both One Loft racing and also club and federation/Combine competition with many of our birds clocked for some brilliant results close to $20,000 Prize Money and so this 2017 season is shaping up to be even betta as the youngsters that have left this place have been sensational to look at, so lets see what damage they can inflict this coming year ,thankyou for all of your support and we hope you all get some results with our birds cheers jh.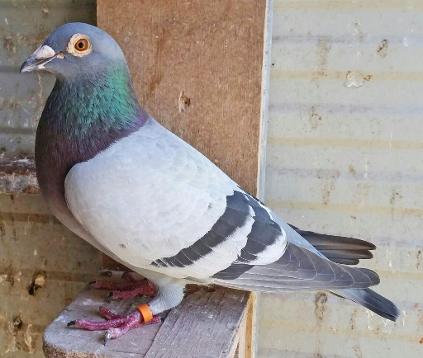 100% Original Graham Davison Pink Sears SVR lines SCF 13 23008 Davo said Great stockbird for 400 mile money races $$ this cock is now the NO 1 Staff Van Reet stock pigeon.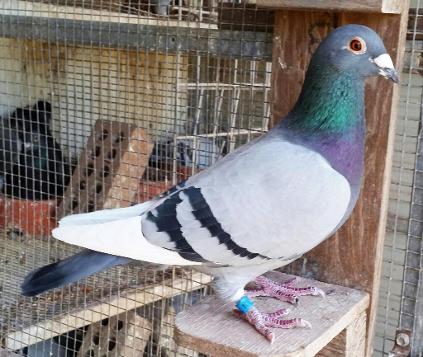 100% Original Graham Davison PUT 13 -624 Sire of 5th fed Bowen 932 km nth road combine QLD 2016.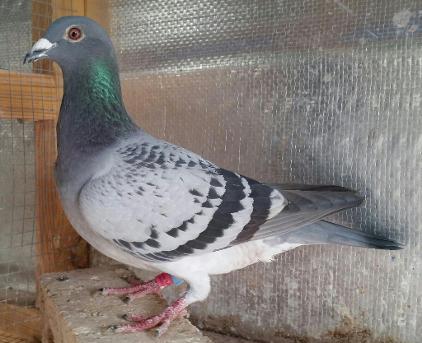 GC 50000 Aardenbelle lofts free entrees bch hen 11th place race 3 - 325 km landing with the winner.Grand daughter of Master Figo.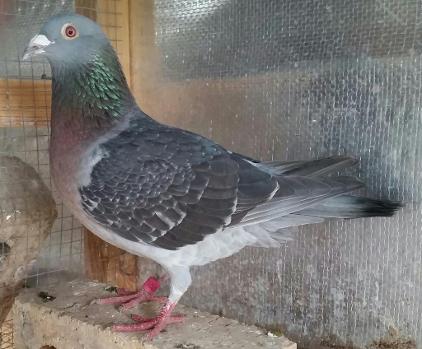 Appleby/Maclean Blacks dch hen clocked 4 times in 2018 for Steve Zander and flew Bowen 1003 km.
GC 50000 2018 Another drink 33rd place 680 km final feature race Grand daughter of 13407 $14000 cock.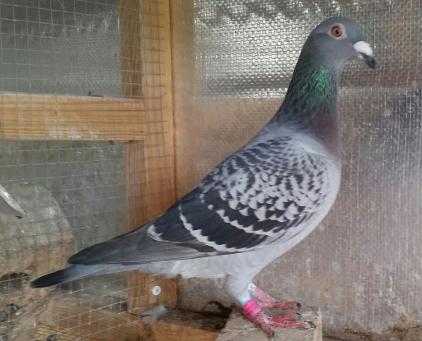 GC 50000 2018 Jessie 2 and nest mate to Hudson Lofts team bird Velar these two birds had a respectable oneloft race season picking up some prize money along the way.These 2 birds did seem to like a bit stronger wind on the nose this year and i think it came from there dam as she loved racing into head winds.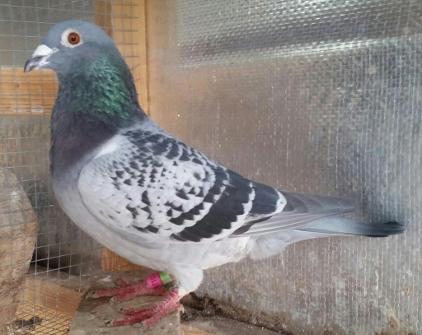 GC 50000 2018 Kaitlyn Bolt 36th place 680 km final feature race this cock is 3/4 Vandenabeele and is a Grandson of the Pedavoli hen and son of Donner 5th place landed with the winner race 4 feature race 2016. And again i think the race was just a bit to quick for this bloodline on the day.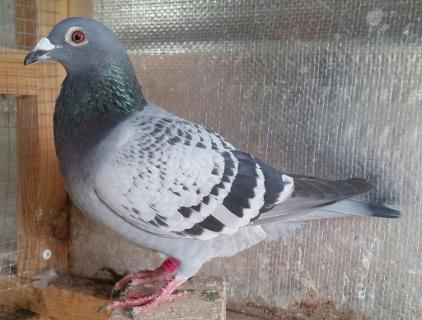 GC 50000 2018 Blue Bar Babe bch hen top 20 Ace pigeon for most of the race season she did put in some good performances through out the year.Graham Davison Kick Ass Bloodlines.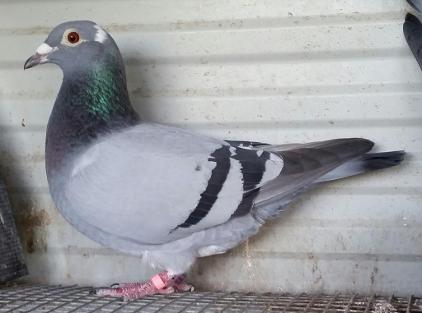 AUSN 17 - 5714 bb hen 5th Fed Rosedale 379 km 2300 birds and 9th fed Marlborough 629 km 1393 birds for S Zander QRPF and Grand Daughter of the Pedavoli hen.